The main ways to share files with internal and external users are listed below. We recommend using either OneDrive or SharePoint website when sharing files.

OneDrive (internal and external)

SharePoint site (internal and external)

Teams (mostly internal)

Shared Drive (internal only)

Email (internal and external)

OneDrive

You can upload a file from your computer or create a file in your OneDrive directly.


SharePoint Site

This is the online storage place for groups/teams. Your team will be inviting you to the Account's Sharepoint site if they are you using it.

All members of the SharePoint site will have edit access to the file/folder uploaded by you and all members of the site. You can locate the SharePoint site files under Documents.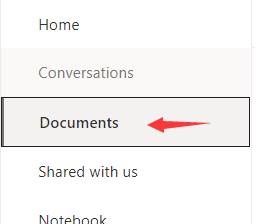 Permissions

Both OneDrive and SharePoint allow you to create links that you can send to others, which work internally and externally.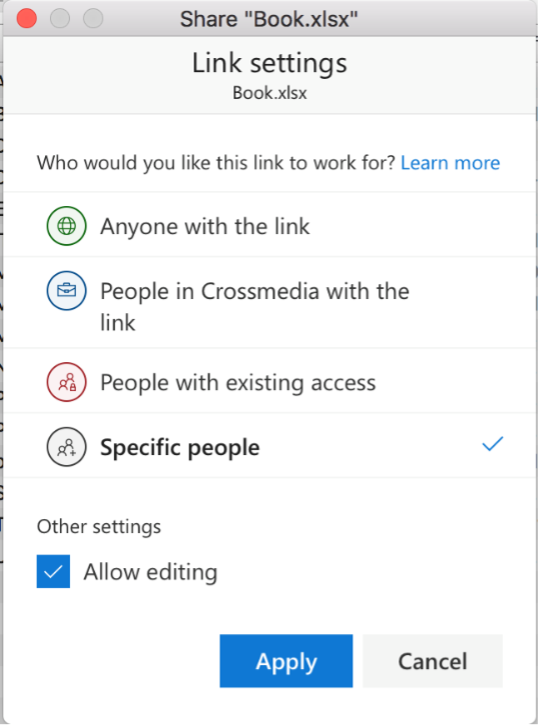 Anyone with the link – Creates an anonymous link that can be shared with anyone, no login required. The recommended method for sending large files to clients. The link expires in a month by default but can be extended. Password protection is available

People in Crossmedia with the link – Requires Crossmedia user login to access

People with existing access – For files that have been shared before as a point of reference. Used when recipients/collaborators cannot find the link

Specific people – Only this listed in the recipients list can access the files/folder. Requires Crossmedia user login

Teams

This is the easiest option if you want to quickly share a file with other people within the company. You can drag and drop a file in a chat window, or click the icon below


The files are automatically saved in your OneDrive within the Microsoft Teams Chat Files folder. All documents shared within chats (individually and in a group) or on the Teams' SharePoint site (i.e. sharing a file in a Teams' channel)


Shared Drive

Only a few teams use the Shared Drive. Please refer to
this guide
for more information.
Email

The size limit for Outlook email attachments is 35MBs. For scale, most PDFs and images fall under this size limit. While it's OK to send files via email, we highly recommend that you save your files to OneDrive or a SharePoint site to leverage cloud file sharing in a link.