Connect to the Shared Drive
You must be on our internal network or connected to the VPN to access a shared drive
1. Double click the appropriate icon on your desktop.

2. If prompted, please enter your credentials. The username is your
firstName.lastName
. The password is your OneLogin password. Please enable the checkbox.
3. You're all set!
Manually Connect to the Shared Drive

Open a new Finder window.

From the top menu bar select Go > Connect to Server (Pro tip: the keyboard shortcut is Command + K)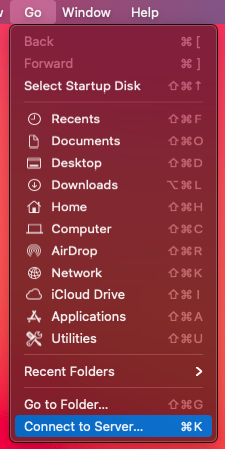 In the pop-up window, type:
afp://rainbowdash.x.xmedia.com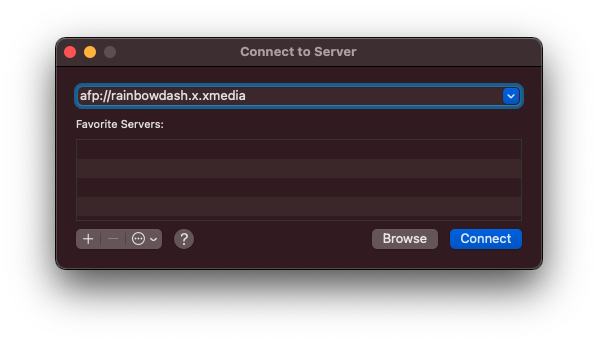 If prompted, you'll need to enter your credentials (see Step 2 above).
Related Articles

Connect to the Guest Wi-Fi

SSID - xmguest Password - Burgerday$ If supported on your device, you can scan the QR code below to join xmguest. Personal devices are only allowed on the "xmguest" network

File Sharing

The main ways to share files with internal and external users are listed below. We recommend using either OneDrive or SharePoint website when sharing files. OneDrive (internal and external) SharePoint site (internal and external) Teams (mostly ...

Bizhub App

Printer Remote Operating Instructions: Connecting: Download and install the Bizhub RA App: Google Play: https://play.google.com/store/apps/details?id=jp.konicaminolta.bt.kmpanel&hl=en_US Apple ...

Setting Up GoToConnect Desktop

In addition to the Mobile App, you can also stay connected with the GoToConnect Desktop App! In order to use GoToConnect's soft phone options, you will need to have an existing line configured for you. If you need a direct line and extension, please ...

Setting Up GoToConnect Mobile App

With the GoToConnect mobile app, you can stay connected without having to be tied down to a traditional desk phone. Instead of having calls forwarded to your personal cell phone, keep track of all business-related calls from your mobile device! ...